I had a really hard time in the beginning of my healing journey with the concept of letting go of who I was. It's a very hard thing to do for most people. We become so attached to being who we are, to doing certain things in a certain way, and that becomes so cemented in our identity and our personality that stepping out of it can be one of the hardest things we have to do in our healing process.
I had a great conversation with someone yesterday about Dr. Joe Dispenza's teachings, and this topic has been coming up a lot with my clients, and I know that I attract the clients that are dealing with similar situations that I am dealing with too, so that conversation triggered this article today.
Why is it so hard to let go of who we used to be?
Why is it so difficult to become who we want to become?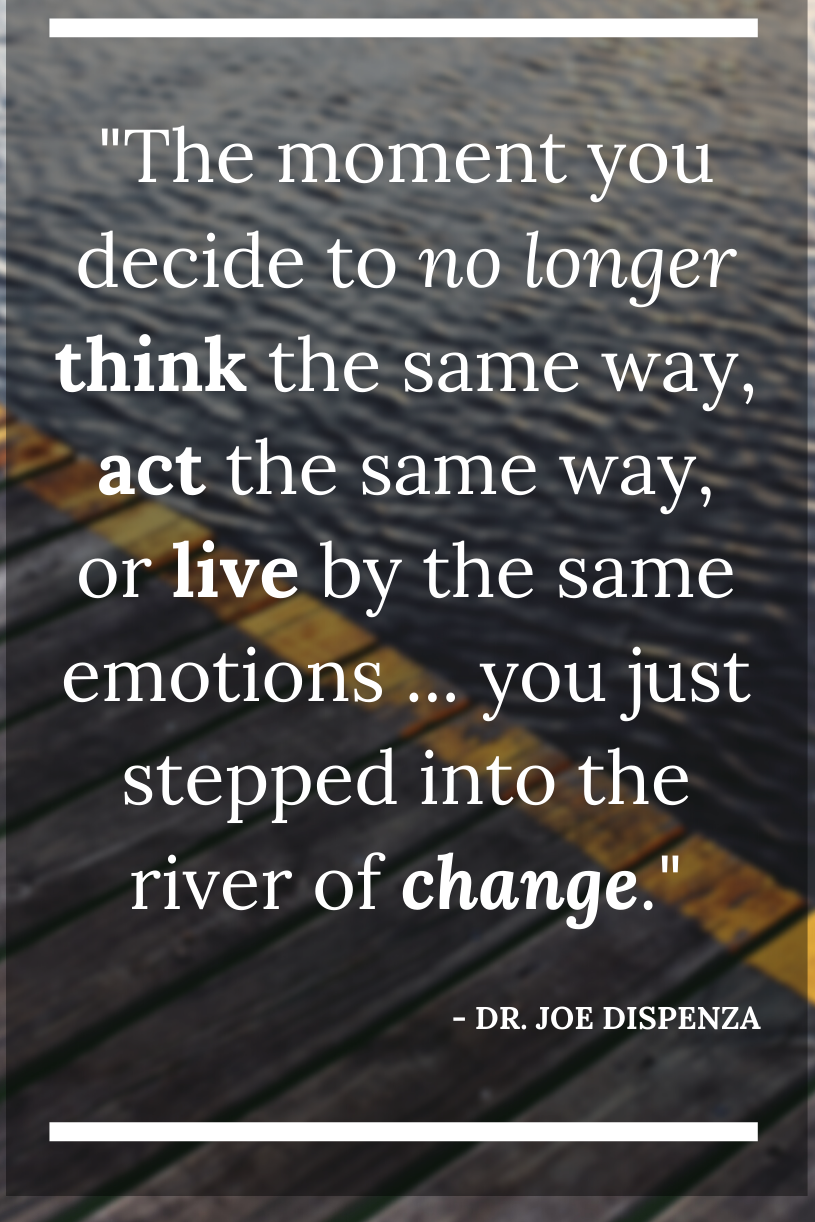 We become so accustomed to defining ourselves in a certain way, to identifying with a certain "phase" of our lives, until that becomes who we are and we encounter a lot of resistance when challenged to change in any way. When we decide that we are ready to move on from whatever is not serving us anymore; be it a relationship, a place, a job or career, a way of eating, a way of being, a way of perceiving reality and so on… Dr. Joe says that we have "entered the river of change."
The river of change can be uncomfortable, scary, and even frightening to most of us. It was extremely challenging to me to let go of my identity of being a drinker. I had lived most of my life carrying that identity, and being praised for being able to drink more than most people I knew without falling apart drunk. I've gotten so attached to that persona that it really took a toll on me to let it go, to become someone new, as Dr. Joe would say.
We have to be ready to let go of the people, places, behaviors and thought patterns that were involved in creating that persona that we have decided to transcend. It is for sure one of the most difficult transformations I've ever gone through in my whole life! But I can now say that I am worthy of that transformation, I am worthy of the beauty that lies on the other side of all the pain and despair. On the other side of all the loneliness and isolation, there is a place of beauty and acceptance, a place where joy and grace abide.
It was very hard for me to release everything, it was very hard to feel alone and isolated while going through the process. However, little by little it all started to settle and life without alcohol started to make more and more sense. I started to fill in that "drinking time" with other things that I am passionate about but just "didn't seem to have the time for." And I can tell you how happy it makes me today to have that time to do my research, writing and collaborations that I was always pushing off for "lack of time!"
We all are capable of taking that leap and surrendering to "change." Perhaps you too want to become that person that doesn't drink, or that person that eats healthy and exercises, or perhaps you'd wish to become that person that let go of a career that was making you miserable and started your own business that you are passionate about. Regardless of what change means to each one of us, change can be such a beautiful blessing in our lives, if we can only give it some time to settle in, if we can just sit with the discomfort and allow our minds to get used to the "new person" we are becoming. I can tell you my friend, there is beauty on the other side of all this work. There is peace and self-acceptance on the other side of the "river of change."